How the CGD Support Group Started - By Andrew Orchard, Trustee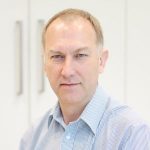 Our son, Dan, was born in December 1985. It was a normal, natural birth and a great way to celebrate Christmas. This was the start of our incredible journey with CGD.
We noticed his first infection when he was 8 weeks old, a perianal abscess that wouldn't heal. At four months Dan had a lump the size of an egg on his neck which needed surgically draining. We were concerned but couldn't understand the reason or the cause and the doctors seemed concerned too. Although we didn't know it at the time, we were actually very lucky because the hospital medics had seen a similar case quite recently. Simon Capell had been diagnosed with CGD a few years earlier and his family lived less than 10 miles away from us. Amazing for a condition that we believed affected just one person in a million.
We wanted to know everything about CGD and our trips to the library (no internet in those days!) informed us that, if we were lucky, Dan may live for 18 months. This was devastating for us as a couple with a new baby but we knew that Simon was older than that and Professor Tony Segal, our specialist working at UCL in London assured us that treatments had come a long way since the early days of diagnosis.
Those early years were a roller coaster in many ways but we had tremendous support from the Capells and we had a superb health visitor who personally drove us to London a number of times to avoid much of the public transport getting to GOSH (Great Ormond Street). However, when we asked Tony Segal if there was a group we could contact for more information, he said there was nothing he knew of.
It was in April 1988 that we suggested to Tony Segal that we would set up a CGD support group and that he could invite his patients to make contact with us. We would act as a hub to put people in contact with each other and to circulate any information we thought might be useful. Tony also circulated my contact details to his colleagues and other hospitals. In July 1988 we had an entry in The Lancet advertising our group.
I also contacted the general support groups around at the time including Contact-a-Family (now Contact) and In Touch (now closed). These were really helpful in finding people in a similar situation. However, much of the correspondence I received was from non-CGD affected families. This was because people with genetic disorders of all types were desperate for information about their particular condition.
For those that did contact me with CGD in their family, I would circulate contact details of everyone in the group and people would call for support which often meant just having someone to talk to and listen. Others formed friendships and they formed their own support networks. As information became available from other sources including UCH and other hospitals, I would circulate it to the group.
It was through the support group that I first met with Paul Numan. He and his wife, Rene, had a son with CGD who was a little older than our son.
We worked closely with a newly formed group called the HGG Society which was run by Fiona Sandford and this group later became the PiA who we partnered with for many years to help run Jeans for Genes. This group has since morphed into PIDUK and now Immunodeficiencies UK.
Paul's strength was in marketing and he saw the need to work closely with our members and other groups to build an identity. He created an occasional newsletter and in July 1990 we had a total of 22 CGD member families. We had links with the Hurleys in the US who ran the American CGD Association and we ran our first survey of UK members. It from this survey that we issued our first list of do's and don'ts to help people avoid infections.
It was Paul that had the vision of setting up a charity in 1990 with the aim of raising funds for research. We had no idea how we would achieve that at that time but the idea seemed sound. In the spring of 1991, the documents to create the CGD Research Trust were completed and signed. Our total funds of £8.00 were transferred to the bank account and our first charity fund raising event was being planned.
In 1990, the Mills family started fundraising for their 2 sons, Daniel and Matthew, in their home town of Gussage St Michael in Dorset. In June 1991 an "Auction of Promises" was arranged at the farm of Steve Mill's employer where he was a dairyman. The Mills' were great fundraisers and by this time had raised over £12,000 for the charity and we had a bank balance of around £17,000 in total. Our target was £500k, so our ambitions were huge.
Rosemarie Rymer lived at the same farm as Steve where her husband Philip was the manager and she became our first employee after devising the idea of Jeans for Genes and when we needed more than just the volunteer support which Rosemarie had also provided up to this time.
Andrew Orchard
March 2021