The Jeans for Genes campaign has a mission to change the lives of everyone across the UK living with a genetic condition. It raises awareness of the daily challenges faced by those living with a genetic condition and raises money to fund projects like ours that make a tangible difference to the lives of those affected.
Most importantly, the campaign:
brings together the genetic condition community in order to make a loud noise about the issues that matter to them,
shines a light on the organisations (like ours) that work tirelessly to improve the lives of affected individuals; and
celebrates the achievements of those living with a genetic condition.
Why is it important to the CGD Society?
Jeans for Genes is the main source of income for the CGD Society. The CGD Society receives a fee for the use of our Jeans for Genes® trademark and it is this income that funds our support services and research programme. This means that the more money raised on Jeans for Genes Day, the more money there is to fund the work of the CGD Society.
The important role of our CGD Clinical Nurse Specialist, Helen, is largely funded by Jeans for Genes.
"To us, Helen is the best reason to take part in Jeans for Genes Day ... we would literally be lost without her. Alex and other children would undoubtedly have more health problems without her expertise."
Interested in organising a Jeans for Genes Day event at your workplace or your child's school?
All you need to do is sign up for a fundraising pack, ask everyone to come to school or work in a pair of jeans and make a small donation of your choice, and then use your event to raise money to make a difference to people affected by genetic conditions.
This year, Jeans for Genes Day events can be run on any day between Monday 18 September and Sunday 24 September 2023, whatever best suits your organisation's or school's schedule.
Visit https://www.jeansforgenesday.org/sign-up to get started with a free fundraising pack, containing posters, stickers, top tips and fundraising ideas.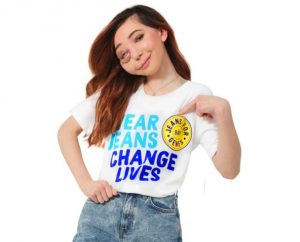 Our website contains a wealth of information to help and support you. If you are not able to find the answer to a specific question, feel free to contact us using the form at the bottom of the page or by emailing or calling us.  We are here to help.