Inspiring supporter stories
We are fortunate to have many wonderful supporters who have taken on challenges to raise funds for our vital work. Take a look at some of their inspiring efforts below.
If you have a fundraising effort you would like to share, please contact us and we will be delighted to highlight your efforts here and on our social media pages.
Fundraiser for Josh - James Kemp's story
James completed the ABP Newport Wales Marathon in April 2018 in memory of his dear friend, Josh Rogers. Josh, 26, sadly passed away owing to complications from CGD. James raised over £1,300 for the CGD Society.
This is James's story: 
My training for the marathon went well. I trained for four months without any injuries or niggles, and in the lead up to the marathon I ended up covering 784 miles, with my longest run being 22 miles. The day itself was a total rollercoaster of emotions. I did not set out with a finish time in mind; I just knew that I wanted to run a good, solid race and enjoy my first marathon.  
During the race I had spells when I felt exuberant because of the support from everyone who was there on the day. Yet, at other times, I was overcome with emotion as I found myself thinking about Josh. Entering the last mile was tough and I felt that I was going to have to lower my pace to a walk. But by digging deep and powering over a bridge (which felt like a mountain at this stage) I managed to find something extra and ended up achieving my best pace of the day, pushing as fast as I could, for that last mile.   
Approaching the finish line and seeing not only my friends and family but also Josh's family lining the streets and cheering me on, I could not help but burst into tears. I was feeling unbelievably happy that I had completed my first marathon but more so that I had done it in honour of my best friend, Josh. Crossing the finish line and making my way through the finish area, seeing everyone there for me, I couldn't help but cry with them all.  
My friendship with Josh (Lil Josh as I called him) was long. We first met way back in comprehensive school and our friendship grew quickly as we used to play football together for our local team, Fields Park. We lived but a stone's throw away from each other. We would often go down to the field and kick a ball around with each other and with other friends. As we grew older, we continued to stay best friends and would often go down the pub and have a game of pool and darts. We went to sporting events, such as the Olympics and ice hockey. We also went on a few holidays together. These are some of my fondest memories of our times together, and some of the laughs we shared will never be forgotten. Josh lived his life to the fullest and I am honoured to have spent time with him over the years, even if it was too short.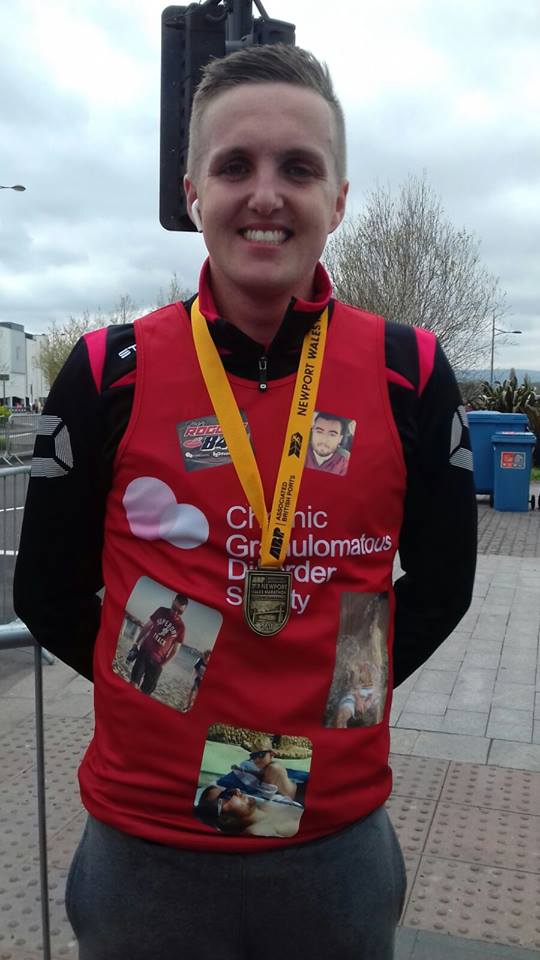 Well done, James. We are so glad the day went well and we really appreciate your fundraising. 
Sunita's story - all for Raylen
Sunita raised over £7,000 last year for us as her son Raylen went through a BMT last year.
In Sunita's words:
'During a 7-week stay in hospital in 2018, our son Raylen (aged 5yrs old at the time) was diagnosed with a serious health condition that prevented his immune system from fighting off infections. As a result, Raylen would get frequent bacterial and fungal infections, and had to take daily medication to stay healthy. However, problems can still arise and lead to serious illnesses and prolonged periods in hospital. The condition is thought to affect around 8 to 10 people in a million and is a life-threatening and life-limiting condition. The only cure for our son's condition was a Bone Marrow Transplant to be carried out at Great Ormond Street Hospital.
Prior to having the Bone Marrow Transplant, Raylen had to go through Chemotherapy, which meant losing his hair. To help Raylen come to terms with this, our families and friends took on the challenge of shaving their heads or going very short. Sunita (Raylen's mum) and 7 family members took on the challenge and each donated 7" to 10" of their hair to the Little Princess Trust, who will use the hair to make wigs for children affected by hair loss as a result of cancer treatment or other conditions'.
The family set up a Just Giving Page to support and benefit 2 charities;
1) The Little Princess Trust who will receive our donated hair, with the hope that it helps to put smiles on the little faces of those that receive a wig.
2) And us here at CGD Society.  Raylen has been in hospital for 7weeks and has had his chemotgeraphy and bone marrow transplant but will remain in hospital until he recovers and to monitor his progress closely.   The family feel deeply about the work we do at CGD Society for the important research and treatment plans and to the team at Great Ormond Street Hospital, for their continuous care and dedication to nursing sick children.
They decided to keep the page open and continue with their fundraising as the CGD Society are entirely reliant on voluntary donations to fund its research into this very rare condition.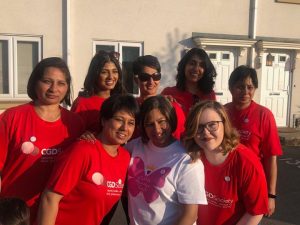 Thank you so much for your support and for all your wonderful fundraising events you ran.  As say, your fundraising means our vital work can continue so thank you very much indeed.
A huge well done to Tom's Green Team who took part in Prudential RideLondon 2018 and raised over £3,000 for the CGD Society.
This amazing amount was raised in memory of Thomas, who sadly passed away in 2012 from infections resulting from a bone marrow transplant (BMT) for CGD.  
Starting at the Queen Elizabeth Olympic Park, the event saw the team cycle a 100-mile route through London and Surrey's countryside.
The team was made up of Thomas's proud mum, Michaela Burton; Thomas Bradley and Jack Boyd. Unfortunately, an injury meant that Michaela had to pull out of the race at the last minute but she was able to be there on the day to cheer on the rest of the team. 
You can read Tom's BMT story here:
https://cgdsociety.org/living-with-cgd/long-term-therapies/bmt-things-to-consider/bmt-patient-stories/toms-story-november-2017/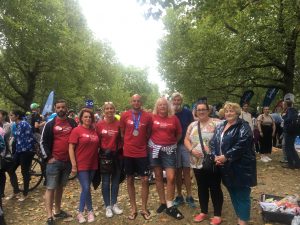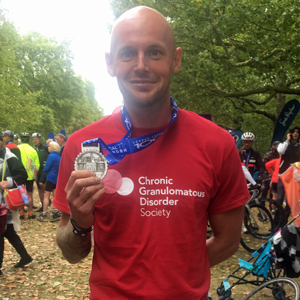 Thank you all for this incredible donation which will have an incredible impact.  We think you are all stars!
Alfie Luxton is 14 years old and in preparation for his bone marrow transplant, he and his brother, Sam, chose to fundraise for the CGD Society by shaving their hair off. We are delighted that at a time when he was going through so much, Alfie chose to help support others affected by CGD. To date he has raised £3,000!
Watch his inspiring fundraising video:
Our website contains a wealth of information to help and support you. If you are not able to find the answer to a specific question, feel free to contact us using the form at the bottom of the page or by emailing or calling us.  We are here to help.