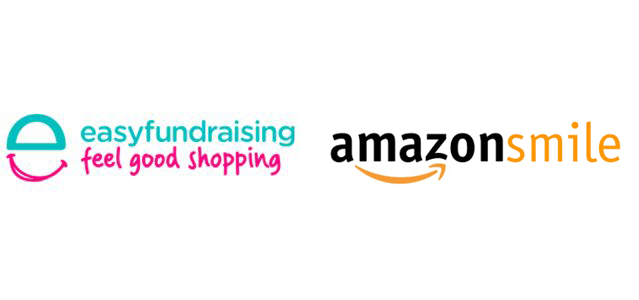 Sign up to easyfundraising
easyfundraising is the UK's biggest charity shopping fundraising site.
With over 3000 retailers to choose from, easyfundraising turns your everyday online shopping into free donations for your favourite charity cause with no extra cost to you! It is easy to sign up and every donation, however large or small will allow us to continue providing our range of services to individuals and families affected by CGD.
Just click on the link below to start raising money.
        smile.amazon : donate while you shop!
Did you know your everyday purchases can help find a cure for all with CGD?  We're delighted that CGD Society are part of Amazon Smile's charity list. This means your everyday purchases could help us protect the services & programmes we offer at CGDS, all the way driving towards our ultimate goal - a cure for all with CGD.

But what is Smile and how does AmazonSmile work?
AmazonSmile is a website operated by Amazon with the same products, prices and shopping features. Your shopping experience stays the same, but every time you shop on AmazonSmile, Amazon donates to your chosen charity.
How much does AmazonSmile donate?
Amazon automatically donates 0.5% of the purchase price of eligible products to your chosen charity when you shop on smile.amazon.co.uk. The good news is shopping with AmazonSmile doesn't cost you, or your chosen charity, any extra.
How do I get Amazon smile?
If you already have an Amazon account, you can begin shopping instantly.  Simply visit smile.amazon.co.uk to get started.
Log in to your Amazon account and search for The Chronic Granulomatous Disorder Society in the 'pick your own charity' search bar
Select The Chronic Granulomatous Disorder Society
You'll receive an email from Amazon and you're ready to shop
Shop as you normally would, knowing each purchase you make protects the services we offer and works towards a cure for all with CGD
Why not add a bookmark for smile.amazon.com to make it even easier to return and start your shopping at AmazonSmile.

How to use Smile on the Amazon app
The main thing to note with Amazon Smile is you always need to purchase your items through smile.amazon.co.uk rather than the main Amazon site. If you use the Amazon app we have a handy workaround:
Shop on the app as you would normally, adding items to your basket
Before you checkout, switch to smile.amazon.co.uk on your mobile browser to complete the process.
If you use an Apple device:
Visit amazon.smile.co.uk in your Safari browser
Tap the share button and scroll right to select 'add to Home Screen'
Click add and then delete your old Amazon app.
Whatever route you choose to use - website or app - every purchase you make also makes a donation to work and services here for us at The CGD Society.  From our clinical nurse Helen to our helpline, from our website to our research - every donation goes towards providing services for our CGD community.
So from us here to you shopping online - thank you! It's retail therapy with a huge charitable impact.
If you are fundraising for the CGD Society - we'd love to hear from you about what you are doing and when!  There are so many different ways (including the online donation route ) but if you've like to do more - please get in touch!
Email events@cgdsociety.org to find out more.
You can contact us via:
Telephone from the UK: 0800 987 8988
Telephone from outside the UK: +44 20 7199 3199
Please note that these telephone numbers are not answered on a 24 hour basis. If you reach our voicemail, please leave a message and we will get back to you as soon as possible.
Alternatively, fill out the contact form at the bottom of the page and we will respond as soon as we are able.
Happy fundraising!
You can purchase more T-shirts or running vests from our shop.
Our website contains a wealth of information to help and support you. If you are not able to find the answer to a specific question, feel free to contact us using the form at the bottom of the page or by emailing or calling us.  We are here to help.