UK Adult BMT Success for CGD Patients emphasises need for transplants to be done in highly specialised centres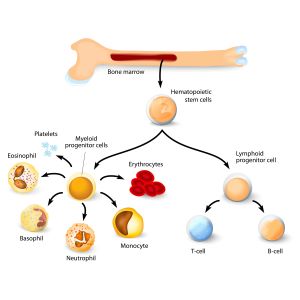 Data expected to change the clinical management of adult PID patients was published earlier this year in the journal Blood.  The publication reports on the largest series in the world to date of adult primary immunodeficiency patients who have undergone bone marrow transplant (haematopoietic stem cell transplant; HSCT).
The study looked at outcomes of twenty-nine adult patients with primary immunodeficiency treated at University College London (UCL) NHS Foundation Trust and the Royal Free London NHS Foundation Trust's UCL Centre for Immunodeficiency over the period July 2004 to November 2016.  Eleven of the 29 patients reported on were people affected by CGD and had developed complications that required curative treatment.
The age range of the CGD patients at time of transplant was 17 – 28 (mean age of 21 years).  CGD patients received two types of transplant depending on whether they had sibling or unrelated donors.  Overall survival rates at three years post transplant for patients with CGD was 82% (9/11) and for non-CGD patients 89%.  There were no cases of early or late graft rejection and patients showed resolution of infections and had good functional immune reconstitution.
The results indicate that CGD adults with an appropriately matching donor should be considered for a potentially curative transplant, which until now has only been routinely used in infancy or childhood.
Professor Emma Morris, Consultant Haematologist (BMT) and Professor of Clinical Cell and Gene Therapy, and senior author on the paper said 'HSCT is considered a gold standard curative treatment for children affected by CGD conditions, however controversy existed on its use for adult patients.  The results of our study show we can achieve comparable success rates in adult CGD patients as those seen for paediatric and adolescent patients'.
In December 2018 Dr Robert Chiesa (Great Ormond Street Hospital, London) on behalf of the European Society for Blood and Marrow Transplantation (EBMT) Inborn Errors Working Party presented the outcome following allogeneic BMT for patients of all ages with CGD. This study included 536 children and 63 adults (≥18 years), who underwent BMT between the years 1993 and 2017. This is the largest study ever presented for CGD patients and also demonstrated excellent results with an overall survival at 2 years post-transplant of 87% (88% in the paediatric group and 78% in the adult group).
Publications
Successful outcome following allogeneic hematopoietic stem cell transplantation in adults with primary immunodeficiency.
Fox TA, Chakraverty R, Burns S, Carpenter B, Thomson K, Lowe D, Fielding A, Peggs K, Kottaridis P, Uttenthal B, Bigley V, Buckland M, Grandage V, Denovan S, Grace S, Dahlstrom J, Workman S, Symes A, Mackinnon S, Hough R, Morris E.
Blood. 2017 Dec 26. pii: blood-2017-09-807487. doi: 10.1182/blood-2017-09-807487. [Epub ahead of print]
Allogeneic Hematopoietic Stem Cell Transplantation in Children and Adults with Chronic Granulomatous Disease (CGD): A Study of the Inborn Errors Working Party (IEWP) of the EBMT.
Robert Chiesa, Junfeng Wang, Henric-Jan Blok, Benedicte Neven, Despina Moshous, Ansgar Schulz, Manfred Hoenig, Michael H. Albert, Fabian Hauck, Amal Al-Seraihy, Jolanta Gozdzik, Per Ljungman, Caroline A. Lindemans, Krzysztof Kalwak, Brigitte Strahm, Urs Schanz, Petr Sedlacek, Karl-Walter Sykora, Serap Aksoylar, Franco Locatelli, Polina Stepensky, Robert Wynn, Su Han Lum, Marco Zecca, Paul Veys, Andrew Gennery, Matthias Felber, Arjan Lankester, Tayfun Guengoer, and Mary Slatter.
https://ash.confex.com/ash/2018/webprogram/Paper114841.html
See more about Gene therapy
Read more about long term therapies
Our website contains a wealth of information to help and support you. If you are not able to find the answer to a specific question, feel free to contact us using the form at the bottom of the page or by emailing or calling us.  We are here to help.