Working for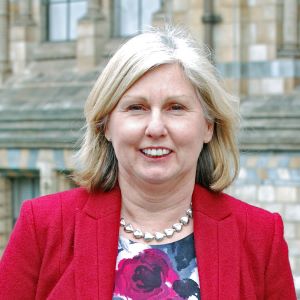 the CGD Society for 19 years – Susan Walsh
I started working for the CGD Research Trust, as it was called then, on the 1st August 2002 and was given the grand title of Medical Research Officer.  I believe creating this role was a major step for the charity at the time.  I remember my first interview so well, meeting with Rosemarie and a Trustee at what was then the Great Western Hotel near one of the main roundabouts in Salisbury.  The interview was followed by a second grilling by Geoff Creamer nearer my home turf in Bath.  Luckily, I passed muster!
My first few months were an immersion into learning about CGD, the challenges people face and what research was being done into the condition.  My next steps were to 'upgrade' the grant giving process – CGD RT were investing a lot of money in those days into research. This involved visiting the laboratories who had or were receiving grants. This was right up my street as I had been a medical researcher myself.  Many 'senior' clinicians must have wondered what on earth was going on when a new 'whipper snapper' arrived pressing them for answers to all the many questions I had about progress, outcomes and where the grant money was being spent.  They obviously didn't take too much offence as they still remain in contact with me.  My favourite labs to visit were Professor Tony Segal's lab at UCL and Profs Adrian Thrasher and Bobby Gaspar's labs at Great Ormond Street Hospital.
I was then tasked to set up a new research advisory panel, grant application, peer review and reporting structures and all these processes slowly grew into the charity passing all the stringent criteria set by the Association of Medical Research Association (AMRC) so we became a full member. AMRC membership is a real badge of honour for charities 'serious' about research funding. It also got the charity's research funding 'on the map', as it were, as I was suddenly invited to give a quite a few presentations at AMRC training events on what a small charity could achieve for communities affected by a rare disorder.  In 2009 I was so proud when Rosemarie and I won an AMRC communication prize 'Innovative Communications for Small Charities' and were runners up in another category to big hitters including Cancer Research UK.
Highlights of being part of this fabulous organisation for so many years were the family weekends. It was just wonderful to put faces to all the people I had been contact with by email and it was a humbling experience to hear of all the health issues and challenges people faced, all borne with such courage and fortitude.  Watching the CGD affected children grow up (wow that doesn't half demonstrate you are getting old), seeing the bonds that families made, and knowing that the opportunity to get together and learn more about new treatments and management of CGD were so valued by families was so rewarding and gave me a real grounding in what matters to patients.  I used to do give an overview of research funding and outcomes at the events and would like to think were well-received.  I certainly tried to 'translate' the hard science into more easily understandable concepts.  Mr Capell, Simon Capell's dad, was always a fan - thank you!.
Tragically, hearing sad news about our members was also unfortunately not uncommon, underlining, in the most heart retching way, that CGD is, and remains, a life-threatening condition.
In the early 2010's the CGD Society started to put a lot of research funding (over £1.2 million) into developing gene therapy for the X-linked form of CGD.  I was asked to set up the Gene Therapy Advisory Committee to oversee a 5 -year programme of research at centres in GOSH and in Frankfurt.  This funding resulted in fundamental changes to the way the gene delivery vectors were designed, and the changes made have since formed the backbone of the gene therapies being commercially developed.  Gene therapy for CGD still remains a hard nut to crack but what is certain is that the CGD Society has played a pivotal role in driving this area of research forward.  The CGD Society should be so proud of this.  Over the years I have overseen £2.85M spent on research with the charity awarding 57 grants.
Over time my role for the CGD Society evolved from research funding oversight to writing educational material, bringing in grant income (£78,598), being involved in advocacy work – with Davina, a Trustee, on 'persuading' the NHS to routinely commission BMT for adults with CGD; organising a Jeans for Genes Foundation Symposium on Gene Therapy in Washington, USA and in trying to promote the J4G brand in the USA are just some of the things I have been involved with.
Nineteen years on I can truly say that working for the CGD Society has changed my life. It has allowed me to grow and progress and I will be forever grateful for the opportunities it has given me to meet and work with truly inspirational people, staff (I have loved working with Rosemarie, Claire, Adele, Helen and Rhian), Trustees, the CGD Society Medical and Research Panel Members, the researchers and clinicians; all of whom who have a deep commitment to changing the lives of people with CGD.  Most of all it has been an honour and pleasure to meet and get to know the families affected by CGD.  You are inspiring!
Finally, I wish the CGD Society every success for the future. I know you are in safe hands.