Constantino's Story (July 2017)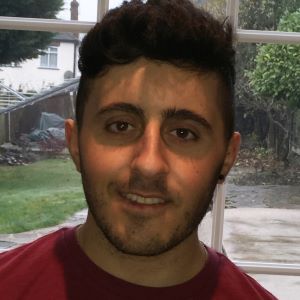 Hi, I am an ex-Great Ormond Street Hospital (GOSH) patient having been a patient there for about 17-18 years, until I was transferred to the Royal Free Hospital where I now just have yearly checkups to make sure I am doing well. My brother Nicholas also had the same condition as me although he was cured by a BMT when he was 5 years old.
I was diagnosed with CGD when I was one year old. I lived quite a normal life growing up. I went to school, made friends, did what many other kids did and had fun. Although, growing up with this rare condition was a little difficult at times and CGD did give me a few setbacks. When I used to go to parks, I was never allowed to go to the park playground (swings, roundabout, climbing frame) that had wood chippings near it, due to the bacteria in the wood chippings that could make me ill as I could possibly have caught a fungal infection. My primary school had this small marshy garden, which had algae growing in the ponds, wood chippings and other things in it that could seriously affect my health. So when the class used to sometimes go to this garden, I was never allowed which upset me a little.
I never used to go on the school trips, which made me quite angry and sad. This was due to all the medication that I had to take, and never being sure of whether the proposed activities and environment were safe, and if something could make me ill.  Although now, schools systems work with allowing children with CGD to be able to safely attend the trips which means they are not left out, something that would have been great for when I was younger.  I also never used to compete in sports day because I was not a very fit child and would get out of breath a lot. If I did run, due to having my condition, I would become more tired and get out of breath quicker than the other kids, so I had to take more breaks. But this did not stop me enjoying myself as I was always an outdoor kid: I loved playing football, running about and having fun!
Hospital as a 'second home'
As I had been going to GOSH for so many years, it became like a second home to me. I had lots of outpatient appointments, which meant missing many days of school. I even had to stay overnight quite a few times as well when I was really unwell, which I did not enjoy. I had a few operations when I was younger; I had my first ever Hickman line on my right side when I was 7.  To check for fungal infection, a surgeon made a big incision on my right side. Luckily there was nothing serious, although I still bear the scar.
My first BMT experience
My brother had a transplant in 2002 when he was 3 years old and our sister was the donor. Unfortunately she was not a match for me and so it took longer to find me a perfect match, the doctors even tested my whole entire family (50 of them) to see if any of them were a match for me, but unfortunately none of them were, so the search went on. Eventually when I was 12 years old a match was finally found for me. I was only told that my donor was a Greek-Cypriot lady from Cyprus, which is where my family is originally from. Generally speaking, after 5 years if both parties are willing, the Hospital can bring them both together to meet up.
On the 5th January 2006 I went to GOSH to have my BMT. The experience was a little bit daunting as I did not know what to expect. The day I was going to have the bone marrow donation was a really exciting and nerve racking experience. My mum took photos of me that day as it was a special moment in my life, although it was over in about 2 hours and I did not feel anything. The bone marrow was fed through a Hickman-line on my left side. I remember that I was bored a lot of the time as there was not much to do and you couldn't go anywhere, but I kept myself occupied with reading books, watching TV and DVD's, and drawing/colouring.
I remember the medicines being really horrible, but I remember one very clearly -cyclosporine. It was an oily and horrible tasting liquid, but I knew I had to take all of them to help in making me better. All the nurses were really kind and helpful and Friday afternoon, around 2pm, was usually the most exciting part of the week as it was the ward round. This is when lots of doctors come to your room to give an update on how your BMT was progressing.  Thankfully it was always good news for me.
I spent six weeks in total in a small isolated room, however the last few days before I went home, as my immune system was accepting the new bone marrow, I was able to go out my room and go to the playroom on the ward. Going home was a really exciting time as I had not seen my family in quite a while. The recovery process at home lasted another 5 months (6 months total) and even though I missed the year 6 end of production play and I did not complete my SATS, I was able to spend the last month at school.
Rejection of my transplant
I started secondary school later that year which was really exciting. Unfortunately, over the next year or so, my body was slowly rejecting the new bone marrow, and I remember the day the doctor told me and my mum the news that my CGD had come back, she was crying, which upset me a lot. And so the search was on again to look for another donor.
In 2008, I got something called colitis, which is inflammation of the bowel. This made me need to go toilet many times a day and I became a little thin and weak. I was put on steroids to keep the inflammation down, and even though it helped, this caused my face to become puffy, and my stomach to become bigger. This was really difficult for me at school as I was bullied because of this.
My second BMT!
In 2009 I received a call from the doctors to say that they had found an 8/10 match and so at the end of May (year 9 of school), I went into GOSH again to have my second BMT.  I was told was that this donor was also from Cyprus as well. I went in expecting and knowing what would happen from my previous experience.  As I still had colitis going into this BMT, the doctors decided to try something new. They told me that I would be nil-by-mouth and that I was going to be fed a special liquid, which gave me all the nutrients to feel full. They wanted to do this new method, because if I ate food, I would have to go to the toilet, thus aggravating my inflamed bowel.
As well as having my third Hickman line (right side), I was given a stomach PEG. The tube was inserted into my stomach, and a small balloon was inflated to stop it falling out. As I was not going to eat or drink anything, the medicines had to be fed through this tube. I had to turn it and clean it every day so that it would not become stiff, which felt a little weird, but hey, at least this time I wouldn't have to taste cyclosporine again!
As I was a little older this time, I bought in my own laptop that I played games on. I also used to collect and paint miniature Games Workshop models, which kept me occupied a lot throughout the day. I also read books, watched movies, and strangely enough, even though I was not allowed to eat, all I ever did was watch cooking programmes!
Missing my family
My family have supported me and my brother throughout our times at Hospital, and having support from the people you love is really important. It was quite tough, especially for my parents, as they were coming and going to Hospital, whilst also trying to work and look after my siblings as well.
When I had my BMT, my brother came to visit me one day, which brightened up my day and made me happier.  You don't realise how much you miss family members until you see them after such a long time. One day when I did not want the hospital teacher to come, I pretended to be asleep, and my mum told her I was feeling unwell, which I wasn't really!
I remember when the doctors came on ward round and told me that my BMT was successful. When they left I was really happy and excited, I started dancing to Michael Jackson singing on the TV, something that my mum said my brother did when he had the same fantastic news. What was just as exciting was when they told me that I was able to eat again. After about 5 weeks of not eating or drinking anything, the first thing I ate was toast, which tasted really sour as my taste buds had gone, and the first thing I drank was Ribena. I had to record how much I drank, in a small diary by my bed. I don't think I ever had a full night's sleep, because especially being older this time round, I was more aware of what was going on, who was coming into my room, as I was always being checked on by nurses.
Going home was another exciting day, however, as this was my second BMT, the recovery process was much longer. I remember crying when I found out that I could not go back to school, I missed it so much! In February I went back to school, still with my stomach PEG. That day, something irritable was in my eye, it felt like an eyelash, and I kept rubbing it. The next day I woke up in excruciating pain. The next week my family and I spent time going back and forth to my local hospital, with the doctors and nurses trying to figure out what it was. We finally ended up at GOSH and straight away they diagnosed me with shingles of the eye, which is similar to chickenpox, but 10x worse. I remember the pain being unbearable, like hundreds of small pin pricks jabbing your eye. I was out for another 4-5 months, recovering on Sky-ward and also at home. I then attended the last month of year 10, having practically missed a year of school.
I now take steroid eye-drops, so my eye does not flare up and become irritable. Even though the doctors said the shingles lie dormant at the back of my brain, the steroids help prevent a reaction/flare-up.
Fulfilling my potential
As I had missed nearly all of y10 when I had my 2nd BMT, in year 11 I had to work extra hard to pass my GCSE's. I revised a lot and had to revise 2 years worth into a few months/or a year. It was worth it though - I passed my exams and achieved 9 GCSE's, including Greek! I was extremely happy as I had worked so hard to attain these important grades, I was even awarded the Jack Petchy award for excellence for the recognition my hard work. I got into the first year of 6th form, although I did not get the grades to go into the 2nd year. I studied Computer Animation, Games and Web Design at college and at the end of it gained a BTEC Level 3 Extended Diploma in Art and Design, with a Triple Grade Merit, Merit, Merit. I graduated in July 2017 with a degree in 3D Animation and Games from Middlesex University.
Giving back
I am currently volunteering at GOSH as an official guide, which involves greeting and welcoming people on arrival and directing and escorting patients, parents and visitors to wards, clinics and department. I am also part Great Ormond Street's Young Peoples Forum, which consists of patients, ex-patients (me), and siblings of patients. Every few months we get together to discuss ways in which we can improve teenage patients experience at the hospital and I have created 2 Virtual Reality projects to improve hospital patients' experience at GOSH.  I want to give back to GOSH for all they have done for me over my lifetime; they have helped me so much throughout the years.
Never give up hope!
My message to other people who have CGD would be not to worry. The nurses and doctors are there to help you get better. There is always light at the end of the tunnel and you must never give up hope. I had to wait many years to get a healthy donor match, and my brother was cured many years before me so it seemed like a very long wait!  After having two BMTs, colitis, shingles of the eye, tubes in me and small operations, missed lots of primary and secondary school, and was behind on work, I studied really hard, was able to get good grades and am doing well and enjoying university. If you told me when I was younger that I would achieve all this, I probably would not have believed you, but hard work, dedication and having strength and confidence inside you, can allow you to achieve a lot.
My wish for helping other people with CGD
I want to be able to share my story, not only to children with CGD, but too many other patients, all over the world. I want to show and explain to young patients how this rare condition affected my life, but how I was able to be cured of it, and to turn my life around, so much so that I am now at university, completing my final year.
Read more personal stories about BMT.
Read more about BMT in our BMT guide for families
Our website contains a wealth of information to help and support you. If you are not able to find the answer to a specific question, feel free to contact us using the form at the bottom of the page or by emailing or calling us.  We are here to help.