Isaac's Story (February 2014)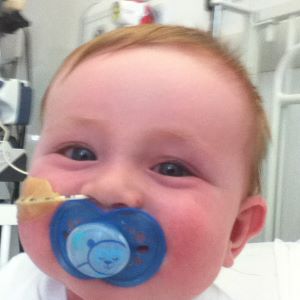 Isaac's mother, Micheala, had known she was a carrier of chronic granulomatous disorder (CGD) and that any son she had would have a 50/50 chance of inheriting it from her. Isaac tested positive at just one day old and started antibiotic treatment three days after his birth. At seven months old, Isaac underwent a bone marrow transplant (BMT) and is now free of CGD and is a healthy little boy.
Like any first time mum, Micheala Robinson, can't wait to share new family experiences with her partner Michael and their baby son Isaac. His first swim, his first trip to playgroup, mixing with friends and running around a play park are all top of their lists.
But Isaac is not a newborn baby. He is a 16 month old toddler who has had to be quarantined at hospital and then at home, away from other people and possible infections, while his body rebuilt its immune system after undergoing a BMT for CGD. The BMT was successful and Isaac is now cured.
Micheala shares the family's BMT journey
Micheala, an NHS pharmicist from Hartlepool, and her partner Michael, knew that parenthood would be a bumpy road for them.
When Micheala was 31, her brother, Stuart, had liver failure and pneumonia caused by a fungus. Blood tests confirmed that he had X-linked CGD. He was in his early twenties and doctors were baffled as to how he had got to that age without any major health problems.
"I was tested then and found out I was a carrier," says Micheala. "At the time I wasn't thinking of kids, but I was given all the information for the future. I knew that if a woman is a carrier of X-linked CGD, her daughters have a 50/50 chance of being carriers and her sons have a 50/50 chance of being affected. Five years later, I met Michael. At that time, I thought Stuart was healthy and well. It's only now that I realise the full implications of CGD and how ill Stuart was and how brave."
Doctors had been talking to Stuart about having a BMT, but he was advised to leave it a while as it is not a straight-forward treatment in adulthood and the risks of mortality are greater.
However, this changed when Stuart contracted the C Difficile bacterium and his health sharply declined. A bone marrow donor came forward and, although it was not a perfect match, it was considered to be the best possible chance of a healthy life. Sadly, seven months after the transplant, Stuart died.
"It was such an horrendously upsetting time," she recalls. "It gave us such a negative impression of CGD and of BMT. Michael and I had put thoughts of having our own family on the back burner, but over the following months we decided we didn't want to let what happened in the past shape our future as a couple.
"We thought if we had a child affected by CGD, we would be able to go to specialist treatment centres. We were going into a pregnancy with our eyes open."
When Micheala got pregnant she declined a CVS, a procedure to test genetic disorders during pregnancy. The couple decided they would not put themselves through invasive testing as the results would not change how they felt about having a baby.
At 20 weeks into the pregnancy, Micheala found out she was expecting a boy, which prepared her for the 50/50 chance that her son could have CGD. The day after he was born, blood tests confirmed that baby Isaac did indeed have CGD.
Dr Terry Flood, a Consultant Paediatric Immunologist at the Great North Hospital, reassured them they would get the best treatment and support.
"It was a horrible time," Micheala remembers. "You look at your perfect little boy and you are told that there is something very wrong with him – I just couldn't believe it. I was in floods of tears. All the bad bits about Stuart's illness came back to me. My first thought was 'oh God we are going to have go through a BMT'."
Dr Flood reassured Micheala that Isaac's experience would be very different to that of her brother.
Micheala says: "The benefit of knowing early that Isaac had CGD was that we gave him the best possible start in life. He still had my immunities from the pregnancy. He was born on a Tuesday and by Friday he had started treatment on antibiotics. Luckily, he could tolerate medicines very well and at three months old he started on anti-fungal medication. At four months, doctors began the search for a bone marrow donor for Isaac.
"By now, we understood that the best option for a healthy life for Isaac was to go for a BMT as soon as possible. Although we knew it would bring us stress and heartache whilst he was a baby, we focused on him having the BMT between one and two years old."
But, when Isaac was just five months old, doctors told Michaela and Michael that they had found a perfect bone marrow match for Isaac.
"I am in awe of these people who give life by donating their bone marrow. It is an amazing thing to do," Michalea says.
"To prepare for the operation Isaac went into hospital to have a Hickman line inserted into his chest, he then started a course of reduced intensity chemotherapy to suppress his immune system, ready for the new bone marrow. He was a bit wiped out at first. Around ten days later, his hair fell out in clumps and his skin was extremely sore. He couldn't eat and needed a feeding tube. It was heartbreaking to see him going through this, but every time I went to his bedside he had a smile for me."
"He kept us going. He had good days and bad days and we became attuned to knowing if he was in pain or if he was sick. He had two or three bad days after the BMT when he would just cry sitting on my knee, even a cuddle seemed painful for him. We were amazed at how resilient he was."
The road to recovery
Isaac was allowed home from hospital six weeks after his BMT.
"We were shell shocked when he first came home. It was hard to cope with the feeding tubes and the vomiting – as he had contracted rotavirus. But he steadily improved and by August he was eating again, and by his first birthday in September he was so much better and crawling about."
Isaac recovered well but the family had to be extremely hygiene conscious as Isaac had no resistance to viruses and the slightest cold and infection could prove very dangerous.
Their house still has to be incredibly clean as Isaac has not yet built his own immune system which will protect him from bacteria and viruses.
Certain foods have to be avoided too – such as honey, pate and cooked meat that had been opened for longer than a day. All meat had to be well cooked. Immediately after the BMT, Isaac was on 12 medications daily but he is now just on antibiotics and one injection a week of immunoglobulin.
Isaac will eventually stop the immunoglobulin injections and will then be able to go ahead with his childhood immunisations. He will continue to have regular check-ups.
A healthy new start
"BMT creates a whole new immune system for you. Stem cells from the transplant go to where you need it most. You could describe it as wiping out the hard drive and putting in a new one. It is a complete cure. Isaac's CGD has gone. It will still be in his genes and he will pass the disorder on to any daughters that he has, but, for now, he is a healthy little boy.
"Everyone says how happy Isaac is. He is so chilled out. He laughs, he giggles, he speaks a few words and he is nearly walking. Seeing Isaac growing up is amazing.
"I wanted to share my story so that people can be encouraged to allow their children, even when they are babies, to have a BMT. If Stuart had known about his condition, he could have been treated sooner and we might not have lost him."
Read more personal stories about BMT.
Read more about BMT in our BMT guide for families
Our website contains a wealth of information to help and support you. If you are not able to find the answer to a specific question, feel free to contact us using the form at the bottom of the page or by emailing or calling us.  We are here to help.