Noah's Story (January 2012)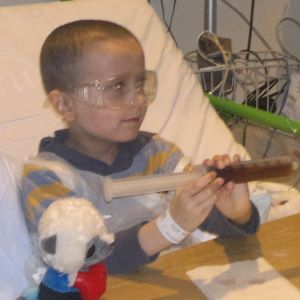 Noah, 7, had X-linked CGD and a BMT via an unrelated donor from the US on 27 January 2012 at Great Ormond Street Hospital. He spent 62 days in hospital and now has 100% engraftment, meaning all the donor's stem cells have settled in his bone marrow and are producing healthy blood cells. He is completely cured of CGD. Caroline, Noah's mum, shares their story and her advice for parents facing BMT.
"It was our only option. That's what Noah's medical team made clear to us, and as parents, myself and Paul accepted this.
The hospital team were quite open with us about the risks. We were told that BMT for Noah had an 80% chance of success with a 10% chance of rejection. We were quite prepared for a rough ride.
Before his transplant Noah was quite a reserved little boy. He didn't like to try anything new, was very shy around new people and would cry if the ball hit him he when he played football. Since his transplant, things have changed so much. He is chatty with everyone, loves all outdoor sport and his self-confidence is very high.
I don't know whether it's his age that has caused these changes or whether having the BMT and freedom from CGD has. I think it's the BMT.
Noah was diagnosed with CGD when he was 18 months old. He was well and free from infections as he grew up but became very poorly in 2010 with a bad fungal chest infection.  After that, he had lots of time off school and was nursed at home. He was taking many medicines and that's when the doctors indicated there were not many options other than having a BMT.
We were in touch with two other families who had been through the process. They'd had a tough time and we were aware of all the potential problems but found it really hard to envisage Noah and ourselves in their shoes. A genetics counsellor and a psychologist supported us through the decision process.
The transplant
The transplant itself was really an anti-climax. It took two hours for the infusion of donor cells. Then you have to wait for the results. Noah needed white blood cell (granulocytes) transfusions to boost his immune system. Family members had to call in on the day to donate as granulocytes don't live very long. They gave 12 lots of cells but only five were used.
The worst bit was waiting for Noah to be ill from chemotherapy and not knowing what would happen. We saw lots of other families affected by side effects of chemotherapy such as mucositis, mouth ulcers, but this did not affect Noah. He went through the process so well, doctors found it hard to believe his progress. He wasn't sick with the chemotherapy – but this is unusual. He sailed through the process.
Being in hospital
Noah did have his up and down days though. The white board in his room was his 'mood' board.  He used to draw how he felt that day – a smiley face, grumpy and so on. This really helped everyone understand how Noah was feeling and the nurses communicate with him.
The days went quickly, there was always something on – teachers, a play worker and volunteers came to visit. So we had at least two hours off to ourselves.  You make fun out of what you have to hand – blowing up gloves, decorating the bathroom door, making hats.  The iPad that the hospital teacher came with was great.
Nurses and doctors were supportive. They don't mollycoddle you; they talk to you on the same level. You can go to the desk and ask for your child's folder at any time. You can ask questions about the 'bloods' and staff are reassuring. Needless to say, you become an expert on 'bloods' very soon – you start to speak the same language.
Facing challenges
Looking after yourself is essential. You know you need a break from the bedside but can't take your mind away from your child. You miss seeing family and friends enormously and then when you see them you get emotional.  A community builds up in hospital as everyone in the ward is in the same boat. They become a sort of new family. You celebrate the key happy moments together and support each other. For us, this has resulted in lasting friendships.
I think the impact of the BMT is harder for family at home because they don't know what is going on. You are in hospital are dealing with it on a day-to-day basis.
We found the waiting to come home bit hard.  The little setbacks that mean you have to stay in hospital longer. For example, Noah's blood potassium levels were not right which meant his kidneys weren't working as well as they and his CMV (Cytomegalovirus) status had changed. This is a serious infection after BMT and Noah had to have extra medicines and more time in hospital.
You have to lower your expectations about the timescale involved in coming home as little things can hold you back. It's so important that you or the nurses don't build up false hope for your child.
Going home
When it did happen, going home was just fantastic. We were elated, overwhelmed! My other children were so happy to see Noah at home.  I'm dealing with Noah's care myself. I'm constantly on the go all day.  At the moment Noah is on 11 oral medicines and one intravenous treatment a day which takes 90 minutes for me to do myself.
Now Noah makes new friends everywhere we go. It's such a pleasure to watch. He loves trying new things, whether it be food or games. His whole attitude to life seems to have changed. It's like he wants to try and do everything possible. He used to be quite hard to get to know. But now he is like an open book."
Caroline's top five tips for getting through BMT
Don't take too many clothes – a weeks' worth is enough at a time.
Use Skype – it's great to keep in touch.
Having photos of school friends and family around in hospital is a good idea.
Think of every good day as one less bad day.
Lower your expectations about the timescale involved. Little things can hold you back.
Read more personal stories about BMT.
Read more about BMT in our BMT guide for families
Our website contains a wealth of information to help and support you. If you are not able to find the answer to a specific question, feel free to contact us using the form at the bottom of the page or by emailing or calling us.  We are here to help.