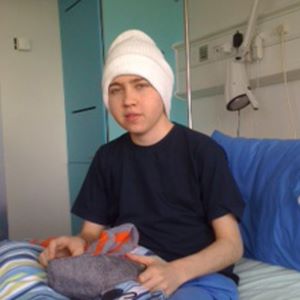 In 2011, Tom, then 17, became the first person with CGD to have a BMT at University College Hospital, London (UCLH) when he received marrow from an unrelated matched donor. He now has 100% engraftment, when blood stem cells started producing healthy blood cells, and no longer has autosomal recessive CGD. Tom shares his experience of what it was like to go through BMT.
"It was a big decision, but a relatively simple choice for me. Deciding to have a BMT was about changing my life and I went for it.
BMT was first discussed in October 2010 when Helen, the CGD Society Clinical Nurse Specialist, talked to my mum and me about it at clinic just before we went to see the doctor. At that time, I couldn't get off steroids because I was having a lot of infections. It came as bit of a shock to hear that I was eligible. I hadn't really ever thought about it and it wasn't mentioned as an option before.
At home, we talked it over with my dad and eventually I remember saying to myself, 'Yes, go for it'.  Helen introduced me to another teenager, Ben, who was going through a BMT and that helped because he had first-hand experience of it. Then it was all about choosing the hospital.
Deciding where to have the BMT
We looked around Great Ormond Street Hospital and UCLH. At Great Ormond Street, there were a lot of babies, but it felt comfortable as I had always been treated there.  But at UCLH, there were teenagers of my age, as this was an adolescent unit. The rooms were bigger and had internet access, and the doctors explained everything I was about to go through, talking to me like an adult and a decision maker. I'd got fed up of being treated as a kid and I was 17 then. At Great Ormond Street it was really geared up for younger kids.  It was so good to know that Helen would visit me regularly too, as she had always been there to get me through everything.
I went in to UCLH on 5 April 2011. Before the procedure I was quite relaxed and could play snooker and PlayStation. Everything that was going to happen to me during the six weeks was explained in great detail and I was told about all the side effects of the drugs.
I had my Hickmann line put in the next day and the chemotherapy took 10 days.  Then the day of the transplant arrived and the new cells were put in, all 4.2 million of them!  We had to wait a couple of weeks for the new cells to take in my body. Other than loosing my hair and some mouth ulcers, it really wasn't too bad.  For others, it can be more difficult and they can have complications.
Coping now and then
The six week isolation was period was hard going but I had the internet and could keep in touch with mates online and by text.  I also had daily visits from Haroon the play/games specialist, and he would play on the PlayStation with me. Unfortunately I didn't really get to know the other kids in hospital until I was allowed out of isolation.  My parents took it in turns to stay with me and my grandparents and family could visit, I just couldn't go out.
In the end I was in hospital for six weeks and one day – much shorter than they thought.  It was strange to be home. It would be a couple of months before I could go out properly with my friends.
Since my transplant I have left school and have had a job. Going through BMT was so worth it for the life I lead today. The only medication I'm on now is penicillin, and I have check-ups every three months. I'm optimistic about my future, but don't know yet what I want to do with the rest of my life."
Tom's top tips for getting through BMT
Take your games console in
Take a duvet from home and pictures to put on your shelf to make your hospital room feel more like yours
Jackie's Story
In 2011, Jackie's son Tom, then 17, became the first person with CGD to have a BMT at University College Hospital, London (UCLH) when he received marrow from an unrelated matched donor. He now has 100% engraftment, when blood stem cells started producing healthy blood cells, and no longer has autosomal recessive CGD. Jackie shares her experience of what it was like to go through BMT.
"I did fear the worst about BMT but it is a life-changing procedure. In the end, the decision was Tom's and to him, it was the means to an end.
Tom had lots of problems when he was a baby but was not diagnosed with CGD until he was nine. He had an abscess on his bottom which was taken off in hospital when he was two and was diagnosed and treated for Crohn's disease and had a gastric tube for several years. None of this sorted out his problems because he actually had CGD and needed to be on the right medication.
Finally, while on a stay in hospital, one doctor said 'I'm going to go over his history and take a closer look at the pictures (histology) of his bowel'. That's when he was diagnosed with CGD and was, thankfully, put on the right medication.
Making the decision
This worked quite well for a few years, apart from some colitis [inflammation of the colon] symptoms. But then Tom started to get severe stomach pains and progressively got worse ending up with a bowel stricture – narrowing of the bowel due to scarring and inflammation. He underwent surgery and had a right hemicolectomy in April 2009.  It was all very disappointing to find his symptoms return within the year and was continually on steroids and various other treatments to control his colitis.
In a routine outpatients appointment in October 2010 Doctors suggested that BMT was the way to go. I was very apprehensive but Tom wanted to go for it.
Hospital life
We were quite surprised by how it went, I think we were expecting it to be much harder.  It wasn't a bad experience, just a few days of sickness following chemotherapy, a bit of mucositis, which people find difficult to eat with, but which Tom found he could because his stomach aches had disappeared – he actually put on weight.  Although he was told he needed to eat if he wanted to get out of hospital quickly.
The biggest issue was probably the hair loss and the thought of six weeks isolation.
The six weeks in hospital went quite quickly for me; there's a lot to do to keep them in a sterile environment. Tom's bed had to be changed daily which I would do while he was in the shower, and I would keep the room surfaces clean with anti-bacterial wipes, even though his room was cleaned daily.
The doctors and nurses were in and out all the time, then the play specialist would spend time with Tom, so I could go to the kitchen for a coffee.  I took in a couple of books but I didn't finish one! One of the nurses even played cards some nights with Tom, and Helen, the CGD nurse, called in every week to see how we were getting on, and with family visiting each week, we really didn't have time to get bored.  My husband would come and stay with Tom at the weekends so I could get home for a night or two to do washing etc.
The challenges
As it was a teenage cancer unit, I found it hard talking to the other mums to start with. Tom came in relatively well compared with other patients, so I felt they were suffering more than I was. Tom had been diagnosed from an early age, whereas these parents had only recently had a diagnosis.  Once friendships were made we became a comfort to each other.
It was stressful coming home too because you are more alone. In fact we looked forward to the twice weekly trips back to the transplant clinic. There was a period of readjusting. I tend to forget what Tom's been through. He also managed some of his geography AS level exams as we were able to come home for a night to enable him to take them at home.
No regrets
We still attend outpatient visits at UCLH to check on Tom's recovery.  In the first few months the hospital even provided our transport as we couldn't use public transport.  These visits will get more infrequent as time goes on.
It sounds funny to say it, but overall it was a brilliant experience because it changed Tom's life and cured his condition. We saw another family considering BMT for their teenage son before we left the hospital, so we talked to them and shared our experience.
For Tom, it's 'So far, so good.'"
Jackie's top tips for getting through BMT
Talk to your employer at least three months before the BMT. Try to negotiate saving holiday for when your son or daughter has the transplant.
Take some time for yourself away from the hospital each day. Get some fresh air and have a little normality.
Use the psychology support services available to you.
Try to share the care of your son or daughter with your partner, so that you get a break.
Read more personal stories about BMT.
Read more about BMT in our BMT guide for families
Our website contains a wealth of information to help and support you. If you are not able to find the answer to a specific question, feel free to contact us using the form at the bottom of the page or by emailing or calling us.  We are here to help.