Virtual fundraising events
COVID has hit the charitable world pretty hard this year.  Studies from the Institute of Fundraising show that 92% of all charities reported a fall in income during lockdown and 91% of all charities have had to cancel events.
On a small charity scale like ours, only one in five small charities were able to provide normal services because of the pandemic.
We were extremely lucky to be one of those five and are so thankful to the donations, the fundraised income and events run by our supporters to continue our work.
However, we are still navigating choppy charity waters and we still need your help – more than ever before.  We are still in need of people to get involved with fundraising to 'walk, ride, run or skip their talk' for CGD.
Traditional fundraising events have taken an online form, to ensure that charities can continued to be supported in these difficult times and here's a few ways you can get involved with fundraising for the services – like Helen – provided by The CGD Society.
Virtual sporting fundraisers 2020
---
Virgin London Marathon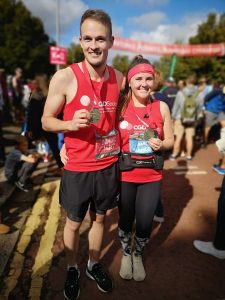 Calling all runners, walkers or joggers!
We are looking for people to take part in this years Virtual London Marathon 2021 as part of our 30th year celebrations - could it be you?
The Virgin Money London Marathon is the largest annual one-day fundraising event on the planet – participants have raised more than £1 billion for good causes since the first race in 1981 – and today charities need the funds it generates more than ever.
THE VIRGIN MONEY LONDON MARATHON – YOUR RUN, YOUR WAY!
Following on from last years success, we're again inviting participants to run the 26.2 miles their way, joining up to 50,000 runners up and down the UK – and across the world. The virtual 2021 Virgin Money London Marathon will take place on Sunday 3 October and participants will have 23 hours, 59 minutes and 59 seconds (from 00:00:00 to 23:59:59 BST) to complete the distance, which they can choose to run, walk or jog – participants of all abilities are welcome.
Entry details
Event date: Sunday 3 October 2021
Entries close: TBC
Minimum fundraising target: £150
Number of places available: 5
You will have 23 hours, 59 minutes and 59 seconds (from 00:00:00 to 23:59:59 BST) to complete the distance of 26.2 miles.
You can run, walk or jog this distance, all abilities are welcome.
You will receive the CGD Society fundraising pack which includes our CGD Society t-shirts or running vest.
We will provide you with full support and will share your Virgin Money Money Giving fundraising page on our social media platforms and monthly e-newsletters.
Fun ideas for the event:
Being dropped 26.2 miles from home and running, jogging or walking back to a hero's welcome.
Completing each mile with a different running buddy, sharing the fun with friends and family.
Create a unique course so friends and family can set up outdoor drink stations for you to stop at for refreshments and encouragement.
So to help make our birthday wish come true, please download the form to take part in this years London Marathon here : CGDS VLM Application Form 2021
Please fill in return this form to events@cgdsociety.org or alternatively to PO Box 454, Dartford, DA1 9PE as soon as possible.
Thank you so much and we look forward to hearing from you soon!
100KM CHALLENGE - JULY 2021 - VIRTUAL RUNNER
Date: July 2021
Entries Close: TBC
Entry: £11.25
Entry benefits :
Challenge yourself to complete 100km distance throughout this month.
Choose to run, walk or cycle 100km between 1st – 31st July 2021 to claim your exclusive, bespoke medal! (any discipline can be done and you can mix and match if you wish to achieve your goal).
Your challenge will be made up from multiple sessions to achieve the 100km distance, but you can do it at your pace.
Every runner into the race means a minimum of 20% donation will be donated to the CGD Society
You can also fundraise for us at the same time, asking for donations via a personal Just Giving page.  We can help you with this at events@cgdsociety.org - ask us how!
To earn your medal:
Submit proof – photo with running app, Garmin, running device, screen on the treadmill etc. via the My Races section of the website ahead of the deadline of 12 noon on 3rd August 2021 (Only the total to be submitted when you have achieved the minimum 100km). Results will be ranked from highest km down to 100km.
Wait for the post to arrive with your medal!
Although it's not possible to stage the postponed Vitality London 10,000 in its usual format this year, you still have the chance to take part in the event and raise much needed funds for the CGD Society.
Click here to sign up : https://www.vitalitylondon10000.co.uk/
---
And remember – with all these fundraisers – whatever you decide to do - we can help you set up your donation pages and promote across all our supporters to cheer you on from behind our computers and from our sofas!  We're with you all the way!!
Let us know if you've signed up so we can support you - drop us a line at events@cgdsociety.org.  Good luck and happy fundraising!
We'll give you a free T-shirt or runnning vest but you can purchase more for your friends from our shop.
For inspriration, read about some of our fundraising stories.
Our website contains a wealth of information to help and support you. If you are not able to find the answer to a specific question, feel free to contact us using the form at the bottom of the page or by emailing or calling us.  We are here to help.